Storytelling is an essential part of the sales process, and it's not really complicated to understand why. While metrics definitely have their place in sales cycles, people in general love hearing stories about how a product made a real difference in someone's day-to-day. In short: Storytelling humanizes your work and makes your connections with prospects much more impactful.
Why Storytelling in Sales Works
Storytelling weaves it's way into many professions, mostly because the human brain is designed to love stories and it's a great way to resonate with an audience. Whether it's an old love song or an effective sales pitch, the main effect is the same: Stories simply get our imaginations moving due to many factors, including language processing. It also creates empathy with the characters in your stories, their struggles, and the way that they overcome them.
"Great stories happen to those who can tell them." – Ira Glass
Storytelling comes naturally for some people. For others, it takes some practice. To start, it's important that all salespeople listen to the stories of others before telling their own. After all, customers want to hear about how your stories can impact their organization – so make sure to personalize it and make it about them. Many of the best salespeople have made it a point to incorporate storytelling into their workflow to not only connect with their customers with real-world scenarios, but also to bring an element of fun into their strategy.
There are a lot of great storytellers out there, so we've decided to include 10 of our favorites in sales, in no particular order:
1. Rob Jeppsen
Rob is the founder and CEO of Xvoyant, a leading sales coaching platform. Rob loves moving the "sales needle" and usually packs a lot of energy in his approach and process. Since Rob specializes in sales coaching, he knows the value of storytelling in everything from relationship development and the commercialization of new products and services. To see how Rob's sales methodologies work, and how storytelling and dialogue fit into those methodologies, check out the video below: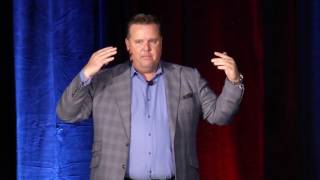 2. Doug Landis
Doug Landis has spent the past 12 years driving sales acceleration at companies like Google and Salesforce. He is now the Chief Storyteller and VP of Sales Productivity at Box, as well as a Growth Partner at Emergence Capital. Doug is a great sales leader to follow in general, as his main responsibilities are centered around changing the way the company talked to and about their customers, and infusing the voice of the customer into every story.
3. Kyle Porter
CEO of SalesLoft, Kyle Porter, is one of the leaders changing the game in modern sales. Through his company's sales engagement platform, social communications become a breeze for sales teams, specifically when it comes to prospecting. SalesLoft's mantra is all about being "sincere at scale," and it starts with a personalization and empathy – both of which are key elements of storytelling. Kyle is also all about putting customers first, which is probably why SalesLoft is one of the fastest growing B2B startups in the US.
Leaders are waking up to the fact that modern sales should be more about authentic, sincere interactions than insincere mass outreach programs and other less personal sales strategies.

— Kyle Porter ☔️ (@kyleporter) November 13, 2017
4. Gordon Jen
Gordon is the Director of Corporate Sales here at EverString, and also one of the most experienced storytellers in sales out there. Gordon is really passionate about bringing out the best in people, and it starts with engagement and telling stories about his own experiences. Gordon also likes to find ways to overcome sales obstacles through storytelling in order to find ways for the entire team to succeed.
5. Nancy Duarte

Nancy Duarte is the CEO of Duarte and an established author who is all about helping other companies communicate their ideas. She's a natural storyteller and her company's services helps others bring out their own stories by visualizing concepts for presentations. Whether she is working on a large-scale presentation for a big conference or helping an SDR fine-tune meeting prep, she understands the value of bringing storytelling into your brand and sales strategy.
Every decision should be made with your #brandstory in mind. https://t.co/6c6uFNqWdL

— Nancy Duarte (@nancyduarte) October 27, 2017
6.  Steve McKenzie

Steve McKenzie is the VP of Sales at Salsify, a company that's championing digital sales strategies and ecommerce product experiences. He is very passionate about utilizing data in sales strategies, and being more data-driven. But he expresses his thoughts in a way that's down-to-earth and charismatic, and full of storytelling components. Check out his thoughts on being data-driven in sales in the video below.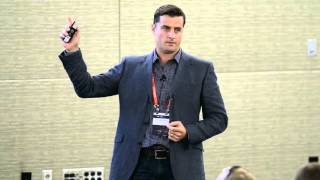 7. Rob Anderson
Rob is a sales leader that always starts with the "why" in sales. As the Manager of Outbound Business Management at Docebo, communicating business value and asking the right questions has always been a driving force in his career, and it shows. Asking the "why" behind sales naturally leads to elements of storytelling and championing your prospects and customers, which is what it's all about.

8. Todd McCormick
As the CRO of Terminus, Todd is focused on delivering a personalized marketing experience for every customer. It should come as no surprise that he champions storytelling, but he shows how to do it in actionable ways, from customizing emails to each prospect to using behavioral data to create relevant content to getting the timing right. All of these use elements of storytelling to get real sales results, and it's a recipe that will continue to see success.

9. Jacco Vanderkooj
Jacco Vanderkooj is one of the most well-known and credible sales growth mentors in Silicon Valley. As a visual salesperson, Vanderkooj often leverages storytelling techniques to keep customers engaged along every step of the journey. He is now a sales mentor and architect at both Storm Ventures and Reach Capital, and the Founder of Winning by Design, which helps customers build and scale their sales efforts through a process-driven approach to sales. And, Vanderkooj's enthusiasm for sales is infectious, making him one of the best storytellers to follow. Check out his keynote at Rainmaker '17 to see what we mean:
10. Trish Bertuzzi
As the author of "The Sales Development Playbook" and the President and Chief Strategist of The Bridge Group, Trish is a veteran in the field of sales and storytelling. She literally wrote the book on it. She also has a way of explaining really complex parts of sales in a clear and simple way – the hallmark of an experienced storyteller. Trish is one of the best sales storytellers to follow on social media, especially with her no-nonsense philosophy and practical advice for salespeople and SDRs.
Storytelling might be an art, but it's definitely an effective and impactful way to communicate your business value and keep prospects engaged with your product or service. Take it from the experiences of these great sales leaders and start incorporating elements of storytelling into your sales strategy. Find more resources to expand your storytelling skills by taking an account-based approach – try out EverString for free with our 7-day trial.