If you ask most people what AI is, images of HBO's "Westworld" and robot armies are typically what come to mind. It makes for a great TV or movie production, but in reality, AI is all around us already whether we realize it or not – and it's way less menacing than Hollywood would have us believe. It's mapping your paths on road trips, helping you find your new favorite show on Netflix, and using voice activation through AI assistants like Siri and Alexa.
In many ways, AI is also showing its true power in the B2B world. This is especially the case for marketers.
AI in Marketing is Already Happening
Whether your main marketing focus is social media, events, programs or content, AI is behind the scenes in many of the decisions your team makes already, which is why it's so important for marketing teams to embrace a data-driven approach with AI. Lifelike chatbots are now popping up on just about every homepage you visit, social media algorithms are determining which ads are targeted to the right audience, and now even content creation is being influenced by AI, as are marketing automation tools.
Understanding what AI really accomplishes for B2B marketing tasks will be crucial moving forward. According to 2017 research from Hubspot, 63% of those surveyed said they didn't realize they were already using AI technologies in their day-to-day. The same survey revealed that consumers were comfortable purchasing and interacting with AI, especially from a customer service perspective as well as productivity.
What does this mean for marketers? AI in marketing is showing no trends of slowing down. Weber Shandwick concluded that a little over two-thirds (68 percent) of CMOs report their company is "doing or planning for business in the AI era." In order to keep up with your competition and grow in your marketing role, you need to stay ahead of these trends and fully understand how they will be impacting your team moving forward. Here are 5 key ways AI is changing marketing for the better:
1. Social Media
Social media is an incredibly useful tool that allows both B2B and B2C marketers to connect with a widespread audience and build brand recognition. However, in order for social media engines to keep running, they need to monetize somehow. This is where ad space plays a huge role in social media – and AI is leading the charge for this in several ways. According to Hubspot, leading social platforms like Facebook, LinkedIn and Twitter are all studying the way that users interact with ads (including hiding ads), leaning on algorithms to curate newsfeeds based on an individual's preferences. This means that ad buyers can then use this data to funnel their spend to create ads that they know their customers are already positively engaging with at scale.
2. Marketing Automation
Sales handoff is one of the biggest responsibilities of marketing teams large and small. Using machine learning and AI capabilities to rank sales leads based on their likelihood to close is another area that's picking up steam. For demand gen marketers specifically, using AI to customize marketing programs and emails with lead ranking (also called lead scoring) is definitely changing the game.
And, with data optimized in an AI sales and marketing platform like EverString, AI is helping demand gen marketers get this done at scale. Marketing automation will only continue to become more and more powerful with AI capabilities.
"According to research from Marketing Automation Insider, marketing automation has boomed into a $1.65 billion industry in the just the past 5 years."
3. Content Curation and Optimization
Content drives so many of your initiatives as a marketer, from campaigns to programs to social media. Because it is a foundational aspect of any marketing strategy, it's no surprise that AI is also influencing content curation and optimization. While the execution of creating content still largely relies on putting pen to paper (in a digital sense anyway), AI is absolutely driving the way that people engage with content – also known as "buyer journeys."
And buyer journeys are only the beginning when it comes to AI in content. According to the Content Marketing Institute, AI is beginning to be used in personalization tools that observe online behaviors, recommendations for content creation and retargeting content strategies in ads. While AI may not drive all of the creative behind content, it is certainly making a difference in the applications and campaigns behind it.
4. Lead Scoring and Account Prioritization
As account-based marketing continues to grow more popular, teams have to put their focus on the right accounts at the right time. Some of the easiest ways to do this is through lead scoring and account prioritization, which are becoming increasingly reliant on AI and enhanced data capabilities.
For instance, with EverString, we use intent data within an AI sales platform to show exactly when a company is looking for a product like yours. This is incredibly important for B2B sales teams in particular, as every sale takes on a consultative process. In short, when sales teams are given leads that are highly relevant and prioritized, it increases like likelihood that these accounts will warm up and eventually close. With AI, this process is sped up much faster than the traditional manual approach, allowing businesses to close more deals in less time. This kind of sales acceleration just can't be done without the power of machine learning.
5. Predictive Analytics
Predictive marketing strategies lean on machine learning and AI in several ways, including predicting when a client is more likely to convert throughout the marketing funnel. This is extremely valuable to marketers because they get keen insights into customer behaviors that they could not have attained on their own, helping them gain an edge above their competition and striking while the iron is hot. LinkedIn points out that predictive strategies are only as successful as the data they lean on – however, as data itself continues to become more sophisticated as well, there is some truth to predictive having real staying power in the digital age.
Though AI might still be a very new concept to marketers, it has undoubtedly been shaping strategies and campaigns already, with predictive technology leading the way. The truth is, AI can do the heavy lifting of lead qualification and prioritization for marketers so that they can spend more time finessing their true marketing skills like messaging, content and crafting relevant campaigns. Here's an excellent video from Salesforce that illustrates how AI, and in particular, predictive strategies, are changing the marketing game: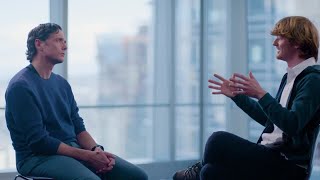 AI is working in many areas of marketing to make 1-1 connections with your customers that much more relevant and impactful, and in many ways we are just getting started. To see how your marketing team can boost productivity and get more out of programs with AI, try out EverString for free with a 7-day trial.