This week we are getting real about things all salespeople get frustrated with – like how to handle bad sales advice and tackling sales-marketing misalignment. We'll also be talking about how a recent group of execs viewed the increasing ties between AI and the business world in the coming years. Read below to learn more:
1. Salespeople Reveal Their Worst Sales Advice
Mistakes are bound to happen no matter what job you have – and a lot of them stem from bad advice. Sales is certainly no exception. In this Hubspot blog, 21 salespeople reveal the worst sales advice they ever received. Some major ones include:
"Go after everyone you can think of"
"Pitching is the most important part of sales"
"Lie if that's what it takes to get the deal done"
Clearly, learning from mistakes is part of growing in your role – but it's important to avoid sales pitfalls whenever you can as well. Do yourself a favor and steer clear of the bad advice in this article. If there is one thing we've noticed time and time again, it's that the most successful sales pros always credit their mentors and influencers, so make sure you are surrounding yourself with people who are ultimately helping you discover your strengths as a salesperson.
2. Google Teams Up With Wal-Mart (and AI) to Take On Amazon
According to a recent New York Times article, Google has entered a blockbuster partnership with retail giant Wal-Mart. With Amazon being a common adversary for both companies, the partnership is mutually beneficial, but it's clear that they are reshaping how e-commerce will be like in the future, with AI leading the way. Here's a snippet from the article that explains how AI is the driving force behind this partnership:
"Walmart customers can link their accounts to Google, allowing the technology giant to learn their past shopping behavior to better predict what they want in the future. Google said that because more than 20 percent of searches conducted on smartphones these days are done by voice, it expects voice-based shopping to be not far behind."
Yet another example of how AI is showing up behind the scenes in many of your daily activities – even your grocery list.
3. Five Ways AI is Changing Marketing for the Better
We all know how Hollywood depicts AI – it's robot armies taking over everything, usually. However, in reality, many marketing teams are already using AI in their day-to-day, they just don't realize it yet. In fact, 63% of respondents in a Hubspot survey did not know that they were already using AI.
In our most recent blog, we talk about 5 areas – from social media to marketing automation – where AI is playing a huge role in engagement and development. Though AI is still a relatively new concept in the business world, it is already a game changer across many facets of marketing. Below you'll see a great video from Salesforce explaining just how AI will influence marketing in the years to come: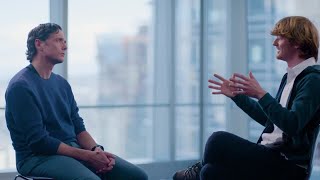 4. 3000 Execs Reveal Their Thoughts on Business and AI
Harvard Business Review's recent breakdown of a McKinsey survey covering 3,000 executives is an eye-opening stance on how the C-suite is adopting AI, and how they see it impacting their organizations in the future. The main takeaways from the article show that CEOs see potential for AI in their top and bottom line, and partnerships in AI are also picking up steam. Early adopters of AI are also 3.5 times more likely than others to say that their profit margins will grow by up to 5 points more than their colleagues.
Finding cross-functionality with AI across tech and business teams is also of importance to the C-suite, as they are looking to get more mileage from their tech stack. As AI technologies for business matures, it's likely that adoption will continue to grow in the coming years.
5. Survey: Sales-Marketing Alignment Struggles Continue
According to KO Marketing, a recent survey shows that for many companies, we still have a long way to go when it comes to sales-marketing alignment. Only 18 percent of sales professionals felt that they were "very aligned" with their marketing teams. However, the article also pointed out a "State of Marketing" report from Salesforce showing that 91 percent of high-performing marketers agree that sales and marketing share the same common goals and strategies.
So what's the disconnect here? Sales-marketing alignment takes time and resources – something that both of these busy teams don't have a lot of. This is why having a B2B sales platform ensuring everyone is rowing in the same direction – hopefully toward your best-fit accounts – helps bridge these gaps to avoid misalignment and reduce tension across the teams.
That's it for your Labor Day edition of "What's Trending in B2B! Tune in next week for more insights into the world of sales and marketing.