This week, we will be focusing on the things that really make things tick in sales, from persona-based selling to sales productivity with a purpose. We'll also being delving into a 101 guide with AI to dispel some myths about its powerful features, and we'll be talking about our latest customer connections story with FunnelWise. Read below to find out more!
1. Making Sure Your Sales Productivity Has Purpose
Nearly everyone in the B2B world is trying to be more productive, and it's easy to understand why – especially if you are working at a high-growth company. However, even after attending some great time-management seminars, reading blogs about productivity in sales, and maybe even buying time management software, you might still be feeling like you are just keeping your head above water.
In this insightful blog from Michael Hyatt, he tackles the "whack-a-mole" version of productivity. Or, checking off something on your to-do list, only to have two more tasks pop right up. According to him, if you have the freedom to focus and be more spontaneous with your approach, you can actually get more done by working less. This idea definitely could change the way you approach your sales and marketing philosophy, so be sure to check it out!
2. Better Social Profiles = Increased Revenue?
Keeping your social profile up-to-date and engaged isn't just for your fun Instagram pics on the weekends. Social media influencers have been around for some time in the B2C world, and they are becoming increasingly important for B2B sales and marketing as well. The more people see your Tweets and LinkedIn posts, the more you can present yourself as a thought leader, and hopefully drive more revenue. In a recent HootSuite article, you can discover ten ways to improve your social media profile as a salesperson, even with a busy schedule. Check out the HootSuite video below for even more tips to improve your social profile. Also, be sure to follow our favorite sales leaders on social media to get some inspiration for what a great social sales presence looks like.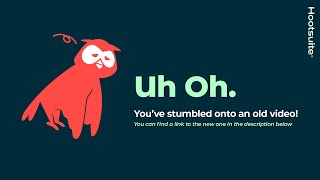 3. SalesLoft is All About Persona-Based Selling
Persona-based selling has really taken off in the past few years, and the reasons why are pretty clear and compelling. With an account-based approach, building a personalized message and relationship with each prospect and customer is crucial to your ongoing success. And, customers know when a company is really taking the time to invest in solutions to their most pressing problems.
In this recent blog post from our friends at SalesLoft, you get a great breakdown of the reasons why catering to personas makes it easier to understand future prospects and customers. From communications over the phone and email, persona-based selling helps you target your accounts with a personalized approach that shows you have done your homework.
4. A 101 Guide to AI and Machine Learning
Everyone in sales and marketing is trying to be more technical and understand the growing influence of AI in the B2B space. However, machine learning carries a lot of myths and misconceptions for most people, so it can be a tough thing to understand. This excellent Medium post from Vishal Maini, however, is a great place to get started.
Throughout the piece, the author walks through the reasons why machine learning matters, the difference between AI and machine learning, and why strong AI capabilities are going to shape the future. And, it's written in plain language that makes it easy for everyone to understand. As AI in sales and marketing takes off, now is the time to better understand how it's going to shape your career moving forward.
5. Mollie Bodensteiner at FunnelWise Boosts Prospecting Productivity with EverString
In our most recent customer connections blog post we talk to Mollie Bodensteiner, Vice President of Marketing at FunnelWise. As a marketing pro at a high-growth company and previous experience at Marketo, Mollie has worn a lot of hats over the course of her career and has become an expert on teaching how the funnel really works. With metrics-driven execution, Mollie doesn't fit the typical marketer mold. Her fresh and competitive approach to marketing is apparent throughout this entire blog, touching on everything from sales-marketing alignment to revenue accountability.
That's it for this week's edition of What's Trending in B2B! Tune in next week to catch up on all things marketing, sales, AI and how they all tie into the modern B2B workflow.