Salesforce's 4th annual State of Marketing report, recently released this summer, highlights artificial intelligence (AI) as the fastest-growing technology in Martech with a 53% increase YoY. This outpaces every other technology on their list by over 50%!
Further, the report shows that 72% of high-performing marketing teams are already using AI – 2x more likely than moderate performers and 3x more likely than low performers. This shouldn't be surprising, because even high-performing teams don't get a break from the expectations of achieving ever-higher growth goals each month, quarter and year. Because these teams are always on the lookout for new processes, approaches and technologies to give their team an edge, it allows them to continue leveling up.
It's Time to Catch Up
Like the cool kids in high school, news of the hottest trends travel fast within the clique; and with 64% of AI-using B2B marketing teams agreeing that it has substantially or greatly improved their marketing efficiency, AI for B2B marketers is absolutely going mainstream.
Some may believe they've "tried AI," when what they've really done is predictive lead scoring. AI for B2B has its roots with scoring, but today's AI platforms provide expanded benefits extending across the entire go-to-market motion: strategy, agile demand generation and sales.
Salesforce reported that high-performing teams are 2x more likely to report better degrees of alignment between the sales and marketing teams. This alignment is a necessary component for obtaining and sustaining growth – and an AI platform can help in two critical ways:
1. AI-assisted sales prospecting: Account executives are natural born hunters. Even if they seem to prefer the ease of following up on warm inbound leads, they live for the thrill of the hunt. As marketers, you want to encourage and direct that energy toward the best-fit accounts and not have them off on a wild goose chase.
2. Up-to-date sales intelligence: Your sales team needs to be on the phone scheduling meetings and making every meeting count. Studies show reps are investing, on average, 2 valuable hours researching each company before making a call. When up-to-date sales intelligence about each account and its decision makers is at their fingertips, directly in their workflow, their time can be focused around revenue growth – not wasted in tedious research.
Salesforce's report indicated the biggest roadblock preventing marketers from adopting AI is having the needed skillsets on their team.
However, there are signs that AI is making big waves in marketing already for those who have adopted it, as discussed in this Salesforce video below: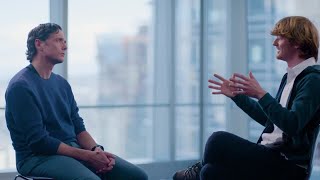 Unfortunately, too many delay taking action because they think they need data scientists in-house to use AI. To bust that myth wide open – you don't need in-house data scientists. The best AI platforms for B2B sales and marketing are self-service, hiding the complexity of AI with intuitive UX and experiences that integrate seamlessly into the team's workflow. Don't delay adopting AI because of this mistaken belief. Instead, focus your energy on finding the right AI platform to support and align your entire go-to-market team. Here's what you want to look for in your AI platform:
Powerful AI built on a continuously updating platform with tens of thousands of data elements and tens of millions of AI-derived insights.
Complete profiles of millions of companies that extend far beyond simple firmographic or technographic elements: valuable, nuanced company-specific insights which truly qualify companies and differentiate those who are a good fit for your product from those who are not.
A self-service environment with new models and scores that can be built by your team in minutes, not weeks or months, so you stay agile and focused on growth.
AI-assisted sales prospecting so your sales team can easily build on early momentum by reaching out to AI-identified 'similar' companies.
Up-to-date sales intelligence about every company so your sales team is not sinking valuable time into researching, and instead is booking new meetings and closing deals.
AI-driven insights are seamlessly integrated into team's existing workflow and tools, so you see the business results quickly.
EverString is the only self-service AI platform for B2B marketing and sales organizations. Our innovative platform continuously updates tens of thousands of data elements and our AI derives tens of millions more. Every growth-focused B2B organization, regardless of size or stage, can now intelligently identify their target accounts and, importantly, access the sales intelligence insights necessary to close new business quickly.
If you want to learn how you can use AI to speed up your marketing efforts and get more out of your campaigns and programs, try out EverString for free with a 7-day trial.